The ideas expressed on this webpage / site are those exclusively of the website owner Catherine Eckley (who is an independent PSTEC affiliate) but not necessarily those of PSTEC owner Tim Phizackerley. The original version can be found at http://www.pstec.org.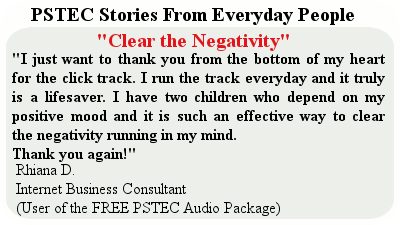 PSTEC is a self help tool. It an be used in the privacy of your own home. PSTEC  is easy to use and comes with a full set of instructions. PSTEC is in the form of PSTEC Audio Click Tracks, Self Help Downloads. PSTEC downloads are in the form of  PSTEC audio MP3 Downloads and PSTEC audio cds. All PSTEC catalogue items are under the banner of Self Help. With its routes in hypnotherapy PSTEC is a valuable source of self help. With free click tracks available to get you started PSTEC is available to all.
PSTEC Catalogue
Great Starter Package
General Catalogue
Anyone with a diagnosed mental health condition is advised to consult their GP or medical expert before using.
All users do so at their own risk.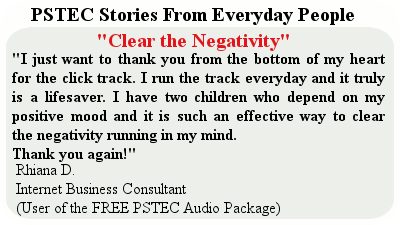 PSTEC Audio Click Track Downloads & MP3 Self Help PSTEC Click Track Downloads